Applications
Our product offer for the Navy
Our product offer for the Navy
A customized approach for demanding operating environments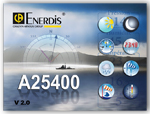 Meteorological sensors (wind vanes, anemometers, hygrometers, etc.), temperature measurement, measurement and supervision systems: a team of specialized engineers and technicians designs innovative, high-performance systems to meet the very specific needs of industrial companies and government administrations (navy, national defence).
Monitoring and forecasting behaviour of the atmosphere, snow cover and ocean surface, providing the aerospace sector and the navy with very accurate forecasts (strong winds, rain, storms, etc.): for many years now, Chauvin Arnoux Energyhas been helping all the actors in the sector with digital weather systems and analogue wind systems.
For the last few years, Chauvin Arnoux Energy has also offered a multi-purpose data acquisition unit as part of a totally-parameterizable and upgradable modular system for remote retrieval of all types of meteorological data via an Ethernet link or STN modem.
When used with the range of industrial transducers, these elements form a comprehensive solution which can be integrated seamlessly into any measuring system in severe environments.
Tailored products, from design through to implementation
A dedicated team supports you in your project, guaranteeing a system which is a perfect match for your requirements. On the basis of precise specifications, our engineers work on the products from their design right through to their implementation on site. Providing advice for development of our products, commissioning, configuration of the equipment and operator training, our team studies, quantifies and implements "turnkey" projects in accordance with each customer's requirements, however complex. Meteorological sensors (wind vanes, anemometers, barometers, hydrometers, etc.), remote temperature indicators, wind direction and speed indicators: Chauvin Arnoux Energy provides tailored equipment to fulfil the very precise requirements of National Defence and industrial companies.
30 years' experience with navies all over the world
Chile, India, Malaysia, Brazil, Russia: the world's major ports place their trust in us. Chauvin Arnoux Energynaturally works with the French Navy and equips the ports of Marseille, Dunkerque, Le Havre, etc.
Measuring and monitoring systems

Temperature
Current / voltage
Physical measurements
Automated systems
Control

Electronic developments
Development of firmware
Development of PC software
Find all of our marine offer by downloading the documentation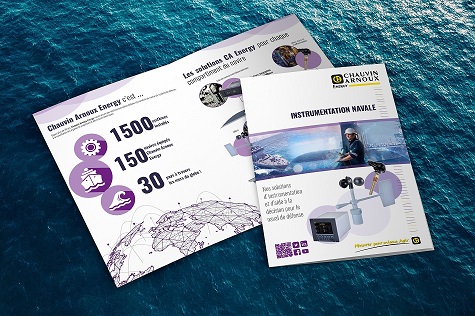 Choosing your meteorological equipment
Although there are two types of measuring systems available (analogue and digital), nowadays meteorologists mainly use digital measuring systems which offer many advantages.
Digital measuring systems: more accurate and more flexible
The first advantage is that they are more accurate than analogue systems. They also allow significant distances between the sensor (anemometer, wind vane, pressure or temperature sensor, etc.) and the unit which will collect the data (to display or store it).
With an analogue sensor, it would be impossible to set up the sensor several hundred metres away from the display system, because the signal would be altered by various disturbances (noise, line resistance, etc.).
Application: Setting up a remote meteorological system

The master of a major French port wanted to monitor all the meteorological data measured on remote sites more than a kilometre away from the harbour office so that it could have its own autonomous weather data and management system.
Chauvin Arnoux Energy therefore installed a complete set of equipment (sensors, radio modem, monitoring systems) between the harbour wall and the harbour office to provide real-time data on:
The wind speed and direction
The atmospheric pressure
The outside temperature
The level of humidity
The dew point